TrustMatters is an educational webinar series created in partnership between Trusted Advisor Associates and The Get Real Project, with a mission of sharing critical knowledge around the areas of trust and building stronger professional relationships.
TrustMatters offers a FREE, interactive webinar each month, featuring contemporary issues and learnings for organizations working to build deeper relations with clients and across internal teams.
View our past webinar archive here
How to Influence a Skeptical Audience in Three Simple Steps 
May 11  |  11AM EDT
Being influential can be challenging in-and-of-itself; being influential with a skeptical audience poses its own unique difficulties. Engaging with people who seem dubious or doubtful in the face of your really good ideas can feel like being in a mental tug of war.
Andrea P. Howe, co-author of The Trusted Advisor Fieldbook and Founder of The Get Real Project, will lead an interactive "deep dive" discussion on three critical steps required to help a skeptical audience hear what you have to say. Specifically, you'll learn:
– Why you should actually celebrate that they're resistant;
– How to open the conversation or presentation in an unexpected way that's unexpectedly effective;
– Specific techniques to listen masterfully while your audience has their guard up; and
– How and when to bring your perspectives into the exchange.
To register, click the image below.
#4 – How to Make a Different Kind of Sales Call
September 25, 2018
#3 – Getting Your Advice Heard & Taken: The Hidden Driver of Influence in Business
May 29, 2018
#2 – 5 Keys to Recovering Lost Trust – Webinar
February 27, 2018
#1 – Understanding the Trust Equation and 12 Trust Tips
December 12, 2017
THE TRUSTED ADVISOR FIELDBOOK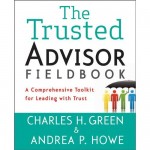 The pragmatic, field-oriented follow-on to the classic The Trusted Advisor. Green and Howe go deep into the how-to's of trusted business relationships—loaded with stories, exercises, tips and tricks, and deeply practical advice.
FIND OUT MORE
TRUST-BASED SELLING

"Sales" and "Trust" rarely inhabit the same sentence. Customers fear being "sold" — they suspect sellers have only their own interests at heart. Is this a built-in conflict? Or can sellers serve buyers' interests and their own as well? The solution is simple to state, hard to live—and totally worth the effort.
THE TRUSTED ADVISOR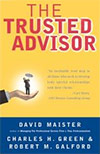 This classic book explores the paradigm of trust through the filter of professional services. It is a blend of thought and practice, clear ideas and practical suggestions, and it has found a place on many professionals' working bookshelves.
TrustMatters Webinar FAQs
How Do I Join?
Click on the webinar (above) and register via Eventbrite. Upon registration you will receive a confirmation email and add to calendar link with the Zoom.us meeting link. We will also send out a reminder email to all registrants, 24-48 hours prior to the webinar with the link.
Who is this webinar for?
Our programs are best-suited to the following industries:
Management Consulting
Finance & Banking
Accounting Services
B2B Sales
Media & Advertising
Technology
Other high-price-point, complex products, and services
Our programs are best-suited for the following roles:
Sales & Business Development
Project, Account, and Relationship Managers
Internal Corporate Staff Functions
Customer Service & Support Functions
Will this webinar be recorded?
Yes. We will send a link out of the recording to all registrants after the webinar.
How can I contact the organizer with any questions?
Email: jason@mediastar.marketing