TrustMatters is an educational webinar series created in partnership between Trusted Advisor Associates and The Get Real Project, with a mission of sharing critical knowledge around the areas of trust and building stronger professional relationships.
TrustMatters offers a FREE, interactive webinar each quarter, featuring contemporary issues and learnings for organizations working to build deeper relations with clients and across internal teams.
A strong, healthy organizational culture can breed success (Southwest Airlines, Patagonia, SquareSpace), while tainted ones can have detrimental effects (Wells Fargo, Uber, Hollywood).
One of the most critical foundations of a strong culture has always been TRUST. Strong levels of trust within an organization will also redound to external relationships, e.g. customers. The reverse is true as well: an organization with low internal trust will bleed out distrust to the outer world.

The big question is: How to create such an organization? The answer has more to do with interpersonal relationships and less to do with traditional change management than you might think.  We'll provide five actionable ways to increase the organizational trust factor in your organization.
Watch Past Webinars from TrustMatters Series
#4 – How to Make a Different Kind of Sales Call
September, 25 2018
#3 – Getting Your Advice Heard & Taken: The Hidden Driver of Influence in Business
May 29, 2018
#2 – 5 Keys to Recovering Lost Trust – Webinar
Feb. 27 2018


View Past Webinars from TrustMatters Series
#1 Understanding the Trust Equation and 12 Trust Tips – Webinar
Dec. 12 2017


THE TRUSTED ADVISOR FIELDBOOK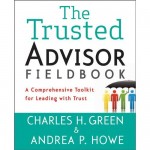 The pragmatic, field-oriented follow-on to the classic The Trusted Advisor. Green and Howe go deep into the how-to's of trusted business relationships—loaded with stories, exercises, tips and tricks, and deeply practical advice.
FIND OUT MORE
TRUST-BASED SELLING

"Sales" and "Trust" rarely inhabit the same sentence. Customers fear being "sold" — they suspect sellers have only their own interests at heart. Is this a built-in conflict? Or can sellers serve buyers' interests and their own as well? The solution is simple to state, hard to live—and totally worth the effort.
THE TRUSTED ADVISOR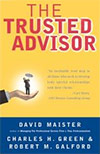 This classic book explores the paradigm of trust through the filter of professional services. It is a blend of thought and practice, clear ideas and practical suggestions, and it has found a place on many professionals' working bookshelves.