In the financial trading community, there is a concept called "risk-on, risk-off," or RoRo for short. It refers to the general market sentiment at a point in time. Simply put, if the prevailing trend is toward more risky and aggressive instruments (e.g., stocks, emerging markets), that is called "risk-on." If the trend is toward less […]
https://trustedadvisor.com/public/iStock-515604620.jpg
483
724
Charles H. Green
http://trustedadvisor.com/public/trusted_advisor1.png
Charles H. Green
2017-11-20 06:00:08
2017-11-19 22:58:47
It's Always Risk-on for Selling
Sometimes when it comes to sales, we approach it as if there were some specific model or equation to follow in order to result in closed business. A + B must equal C. So, many of us tend to look for this equation over and over again. If we didn't get it right – it […]
https://trustedadvisor.com/public/iStock-622315182.jpg
511
684
Charles H. Green
http://trustedadvisor.com/public/trusted_advisor1.png
Charles H. Green
2017-11-13 06:00:43
2017-11-02 20:12:39
Pain, Brain, or Reframe: How Do Buyers Really Buy?
It happened again the other day. A (fairly articulate) participant in one of my workshops said: Charlie, you don't understand our system. We can't do the trust stuff you suggest when the incentive system is set up the way it is. We get paid on the basis of the transactions we bring in and close; […]
https://trustedadvisor.com/public/iStock-681407458.jpg
483
724
Charles H. Green
http://trustedadvisor.com/public/trusted_advisor1.png
Charles H. Green
2017-11-06 06:00:07
2017-11-02 21:27:54
The Comp System Made Me Do It (Be a Low Trust Advisor)
THE TRUSTED ADVISOR FIELDBOOK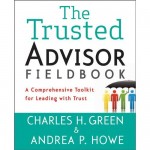 The pragmatic, field-oriented follow-on to the classic The Trusted Advisor. Green and Howe go deep into the how-to's of trusted business relationships—loaded with stories, exercises, tips and tricks, and deeply practical advice.
FIND OUT MORE
TRUST-BASED SELLING

"Sales" and "Trust" rarely inhabit the same sentence. Customers fear being "sold" — they suspect sellers have only their own interests at heart. Is this a built-in conflict? Or can sellers serve buyers' interests and their own as well? The solution is simple to state, hard to live—and totally worth the effort.
THE TRUSTED ADVISOR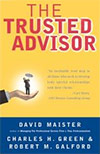 This classic book explores the paradigm of trust through the filter of professional services. It is a blend of thought and practice, clear ideas and practical suggestions, and it has found a place on many professionals' working bookshelves.