Workshop 1: Being a Trusted Advisor
Our signature workshop, Being a Trusted Advisor, is a fully engaging experience aimed both at building professionals' trustworthiness, and their ability to create trust. It is aimed at client-facing professionals (both internal and external clients), such as consultants, shared services, and tech or customer support.  (See the companion program Trust-based Selling for business development organizations).
The half-day, one-day or two-day workshop is built upon the Trust Equation (the four components of trustworthiness), and the Trust Creation Process. They typically include the TQ Trust Quotient Assessment tool for evaluating participants' trustworthiness. The longer programs also address the Trust Principles for creating trust-based teams and organizations.
The sessions are interactive and highly practical, because they are tailored to organizations' actual real-life issues and individual needs. Workshops are ideally suited for 20-35 people.
Key Benefits:
Understanding of and appreciation for the key components of trustworthiness
Extremely practical tips for creating trust in a variety of common business situations
Practice in applying tools and techniques to individual-user-specific situations
Greater self-confidence, ease and ability to transform risky situations into trust-creating opportunities
Workshop 2: Trust-Based Selling
Trust and "sales" are not typically thought of in the same sentence. Many B2B and services professionals are not even comfortable seeing themselves as "salespeople." This signature program transforms participants' views of business development by the rigorous application of trust principles. Participants learn the critical differences between 'salespeople' and trusted business advisors. And, the truth is; people are actually more likely to buy from those they trust.
Trust-based Selling is not a sales process; it is process-agnostic. It teaches participants how to create trust through any process by rigorous application of the Trust Equation, the Trust Creation Process, and the Four Trust Principles.
Typical participants include: B2B sales people from high-priced, complex products and services; professional services business developers; seller-doer consultative organizations; partners in professional services organizations; and other functions that need to improve their persuasiveness consistent with the highest integrity.
The workshops are built in half-day, one-day and two-day formats, for from 15 to 40 participants. They include interactive role-play exercises and video materials. They address issues like networking, closing, answering the Five Toughest Sales Questions, pricing, cross-selling, delivering pitches, understanding the B2B buying process, and selling to the C-Suite – all from the perspective of trust initially written about in our three books on trusted business relationships.
Key Benefits:
Brings your existing sales process to "life" by focusing it on real client needs and building real client relationships
Increased win rate on new client opportunities; higher client retention; lower price resistance; greater cross-selling effectiveness
Enhanced teamwork internal to the organization
Greater sense of self-worth and integrity
Interested in Workshops? Let's Talk

If you're interested in learning more about workshops, please drop me an email personally:
Charles H. Green, CEO Trusted Advisor Associates
cgreen@trustedadvisor.com
THE TRUSTED ADVISOR FIELDBOOK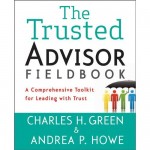 The pragmatic, field-oriented follow-on to the classic The Trusted Advisor. Green and Howe go deep into the how-to's of trusted business relationships—loaded with stories, exercises, tips and tricks, and deeply practical advice.
FIND OUT MORE
TRUST-BASED SELLING

"Sales" and "Trust" rarely inhabit the same sentence. Customers fear being "sold" — they suspect sellers have only their own interests at heart. Is this a built-in conflict? Or can sellers serve buyers' interests and their own as well? The solution is simple to state, hard to live—and totally worth the effort.
THE TRUSTED ADVISOR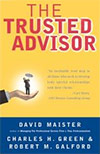 This classic book explores the paradigm of trust through the filter of professional services. It is a blend of thought and practice, clear ideas and practical suggestions, and it has found a place on many professionals' working bookshelves.