Charles H. Green
Founder
Trusted Advisor Associates - Training, Workshops, Trust Education
Who I'm Following:
Books I'm Reading
As founder of Trusted Advisor Associates, I'm passionate about crafting insights and ideas in ways that are memorable, and that allow people to change, beginning right now.
I specialize in commercial relationships where people in one organization get paid to persuade other people, within or outside their own organization. That includes sales, and it includes advice giving, both internal and external.
I have an MBA from Harvard and an undergraduate degree in Philosophy from Columbia (I also drove a NYC taxi part-time in college). I've been a consultant since 1976, and have been with Trusted Advisor Associates since I founded it in 1997. I have worked for about a hundred diverse clients over my career.
My Trust Story
Once, early in my career, I had to give a sales pitch — in front of my boss, no less. The client asked me, "What experience do you folks have doing sandpaper marketing?" The truth is, I had none.
I began to formulate a roundabout, MBA-talk line before my boss interrupted me: "None that I can think of," he said, like it was the most natural thing in the world. And it was. The client was grateful for the honesty and the conversation then easily flowed to what we could provide.
It taught me the values of:
Honesty
Authenticity
Focusing on the client, not on myself
Playing right for the long run, and letting the short run take care of itself
My Services
My original core profession was management consultant: helping people to make better decisions for themselves. Personally, I deliver keynote speeches and webinars.
My Trust Temperament:
The Catalyst™
The Trusted Advisor
Trust-Based Selling
Leading with Trust
The Trust-based Organization
THE TRUSTED ADVISOR FIELDBOOK
The pragmatic, field-oriented follow-on to the classic The Trusted Advisor. Green and Howe go deep into the how-to's of trusted business relationships—loaded with stories, exercises, tips and tricks, and deeply practical advice.
FIND OUT MORE
TRUST-BASED SELLING

"Sales" and "Trust" rarely inhabit the same sentence. Customers fear being "sold" — they suspect sellers have only their own interests at heart. Is this a built-in conflict? Or can sellers serve buyers' interests and their own as well? The solution is simple to state, hard to live—and totally worth the effort.
THE TRUSTED ADVISOR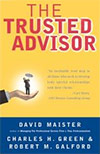 This classic book explores the paradigm of trust through the filter of professional services. It is a blend of thought and practice, clear ideas and practical suggestions, and it has found a place on many professionals' working bookshelves.
You have had a transformative impact on our company.
Michael Colacino – President, Studley Commercial Real Estate