https://trustedadvisor.com/public/TA-TrustMatters-Podcast._Sq_new.jpg
1400
1400
Charles H. Green
http://trustedadvisor.com/public/trusted_advisor1.png
Charles H. Green
2018-08-07 10:10:54
2018-09-07 17:12:40
Trust Matters, The Podcast: How to Manage an Untrustworthy Client (Episode 5)
Maybe you have a college classmate in a company your firm would like to sell to.   Maybe a neighbor down the street works for an organization you wish you could sell to. Maybe you've become friendly with someone in a client company for which you'd like to do further work elsewhere in the organization. Can you […]
http://trustedadvisor.com/public/trusted_advisor1.png
0
0
Charles H. Green
http://trustedadvisor.com/public/trusted_advisor1.png
Charles H. Green
2018-08-06 07:23:41
2018-08-06 07:23:41
Can You Ethically Sell to a Friend?
Building trust is one of the most important responsibilities facing leaders today. While organizations go to great lengths to establish a culture that encourages trust, it falls upon individual leaders to bring that level of trust to their teams.
https://trustedadvisor.com/public/rawpixel-683571-unsplash.jpg
2667
4000
Rick Lepsinger
http://trustedadvisor.com/public/trusted_advisor1.png
Rick Lepsinger
2018-07-26 06:00:58
2018-07-25 11:51:10
How the Best Leaders Build Trust
THE TRUSTED ADVISOR FIELDBOOK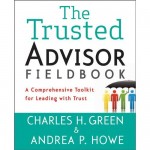 The pragmatic, field-oriented follow-on to the classic The Trusted Advisor. Green and Howe go deep into the how-to's of trusted business relationships—loaded with stories, exercises, tips and tricks, and deeply practical advice.
FIND OUT MORE
TRUST-BASED SELLING

"Sales" and "Trust" rarely inhabit the same sentence. Customers fear being "sold" — they suspect sellers have only their own interests at heart. Is this a built-in conflict? Or can sellers serve buyers' interests and their own as well? The solution is simple to state, hard to live—and totally worth the effort.
THE TRUSTED ADVISOR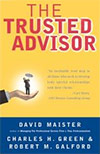 This classic book explores the paradigm of trust through the filter of professional services. It is a blend of thought and practice, clear ideas and practical suggestions, and it has found a place on many professionals' working bookshelves.