https://trustedadvisor.com/public/TA-TrustMatters-Podcast._Sq_new.jpg
1400
1400
Charles H. Green
http://trustedadvisor.com/public/trusted_advisor1.png
Charles H. Green
2018-09-18 08:35:01
2018-09-18 08:36:39
Trust Matters, The Podcast: How to Establish Trust When Managing a New Team (Episode 8)
She says he sexually assaulted her. He categorically denies it. Surely one of them must be lying, and a Senate hearing is the right place to get to the bottom of it. NOT. I don't usually write about current events, but sometimes a teachable moment arises that just begs to be waded into. So here […]
http://trustedadvisor.com/public/trusted_advisor1.png
0
0
Charles H. Green
http://trustedadvisor.com/public/trusted_advisor1.png
Charles H. Green
2018-09-17 21:13:52
2018-09-17 21:13:52
Sex, Lies and Memory. And Trust.
Let's talk about working hard. Maybe you think you're not working hard enough; maybe someone else is guilt-tripping you into thinking so.  On the other hand, maybe you're worried about work-life balance; or maybe you're looking for that magic 2-day work week. These thoughts rest on one definition of working hard: hours spent. I'd like […]
http://trustedadvisor.com/public/trusted_advisor1.png
0
0
Charles H. Green
http://trustedadvisor.com/public/trusted_advisor1.png
Charles H. Green
2018-09-17 06:01:19
2018-09-16 21:36:51
Working Too Hard to Make the Sale
THE TRUSTED ADVISOR FIELDBOOK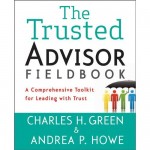 The pragmatic, field-oriented follow-on to the classic The Trusted Advisor. Green and Howe go deep into the how-to's of trusted business relationships—loaded with stories, exercises, tips and tricks, and deeply practical advice.
FIND OUT MORE
TRUST-BASED SELLING

"Sales" and "Trust" rarely inhabit the same sentence. Customers fear being "sold" — they suspect sellers have only their own interests at heart. Is this a built-in conflict? Or can sellers serve buyers' interests and their own as well? The solution is simple to state, hard to live—and totally worth the effort.
THE TRUSTED ADVISOR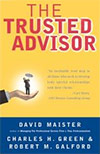 This classic book explores the paradigm of trust through the filter of professional services. It is a blend of thought and practice, clear ideas and practical suggestions, and it has found a place on many professionals' working bookshelves.