I just bought a car. The last time I bought a car from a dealer was over 20 years ago, and it was a horrendous experience. Based on that experience, I never would have expected to use car buying as a positive example of trust. But the salesman I met last month, Frankie at CarMax, […]
http://trustedadvisor.com/public/trusted_advisor1.png
0
0
Noelle Mykolenko
http://trustedadvisor.com/public/trusted_advisor1.png
Noelle Mykolenko
2023-04-03 16:51:19
2023-04-03 18:03:13
Trust at the Car Dealership
Some years ago I wrote about a "Better New Year's Resolution." It was pretty good, if I do say so myself. For years I tried to improve on it, and never could. I finally stopped trying. Here it is again, not-so-new-and-improved, but still pretty good, I think. What do you think? My unscientific sampling […]
http://trustedadvisor.com/public/trusted_advisor1.png
0
0
Charles H. Green
http://trustedadvisor.com/public/trusted_advisor1.png
Charles H. Green
2022-01-03 11:32:39
2023-01-04 08:56:07
Want a (Better) New Year's Resolution?
I recently listened to Howard Stern's interview with (Sir) Paul McCartney. One part stood out. Howard asked Paul about multiple instances where John Lennon had been cruel towards McCartney; didn't he feel treated unfairly, hurt, resentful, Howard asked? Paul essentially replied that no, that was just John being John, that once you accepted that as […]
http://trustedadvisor.com/public/trusted_advisor1.png
0
0
Charles H. Green
http://trustedadvisor.com/public/trusted_advisor1.png
Charles H. Green
2021-11-18 10:24:20
2021-11-18 10:24:20
Pain Is Inevitable, Suffering Is Optional
THE TRUSTED ADVISOR FIELDBOOK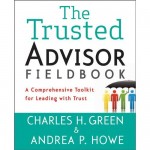 The pragmatic, field-oriented follow-on to the classic The Trusted Advisor. Green and Howe go deep into the how-to's of trusted business relationships—loaded with stories, exercises, tips and tricks, and deeply practical advice.
FIND OUT MORE
TRUST-BASED SELLING

"Sales" and "Trust" rarely inhabit the same sentence. Customers fear being "sold" — they suspect sellers have only their own interests at heart. Is this a built-in conflict? Or can sellers serve buyers' interests and their own as well? The solution is simple to state, hard to live—and totally worth the effort.
THE TRUSTED ADVISOR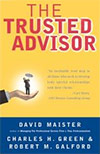 This classic book explores the paradigm of trust through the filter of professional services. It is a blend of thought and practice, clear ideas and practical suggestions, and it has found a place on many professionals' working bookshelves.