– With contributions from Sandy Styer, Client Manager – Diagnostics and Stewart Hirsch, Senior Coach – Business Development and Executive Leadership  Pandemic. Coronavirus. Covid-19. _____.   ______.  . ______. Fill in the blanks with adjective(s) of your choice [apocalyptic; unprecedented; crisis; game-changer; etc.] Add a flourishing punch line, and you've got the intro to this […]
http://trustedadvisor.com/public/trusted_advisor1.png
0
0
Charles H. Green
http://trustedadvisor.com/public/trusted_advisor1.png
Charles H. Green
2020-05-28 12:25:18
2020-06-18 17:20:22
7 Lessons to Improve Trust in a Virtual World
It's fair to say the vast majority of us have not experienced a global public health crisis at a scale similar to the one we are experiencing right now with COVID-19. While many might point to political or economic events that triggered similar feelings, the current outbreak of the novel coronavirus is touching every single […]
http://trustedadvisor.com/public/trusted_advisor1.png
0
0
K.B. Abele
http://trustedadvisor.com/public/trusted_advisor1.png
K.B. Abele
2020-05-22 13:59:47
2020-05-22 13:59:47
How Will You Respond in a Time of Crisis?
Richard Hsu, Director of the Partner Practice Group, interviews Charles H. Green, on the HSU Untied Podcast, for a deep dive discussion into how leaders can refine their trust and communication skills in this new, virtual business world. Learn how to connect with and read your team better, virtually. Understand how Intimacy and Self orientation […]
http://trustedadvisor.com/public/trusted_advisor1.png
0
0
Jason Gluskin
http://trustedadvisor.com/public/trusted_advisor1.png
Jason Gluskin
2020-05-14 07:49:13
2020-05-14 08:59:12
Podcast Interview: The Importance of Trust in Remote Leadership
THE TRUSTED ADVISOR FIELDBOOK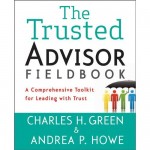 The pragmatic, field-oriented follow-on to the classic The Trusted Advisor. Green and Howe go deep into the how-to's of trusted business relationships—loaded with stories, exercises, tips and tricks, and deeply practical advice.
FIND OUT MORE
TRUST-BASED SELLING

"Sales" and "Trust" rarely inhabit the same sentence. Customers fear being "sold" — they suspect sellers have only their own interests at heart. Is this a built-in conflict? Or can sellers serve buyers' interests and their own as well? The solution is simple to state, hard to live—and totally worth the effort.
THE TRUSTED ADVISOR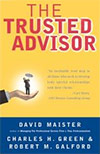 This classic book explores the paradigm of trust through the filter of professional services. It is a blend of thought and practice, clear ideas and practical suggestions, and it has found a place on many professionals' working bookshelves.