Several months after 9/11, I had dinner with friends—a couple from New York. One's a doctor, the other runs a small business. Both are well-educated, successful people. They told me that the press had hushed up a major disaster affecting the PATH system (stands for Port Authority Trans-Hudson Rail; they run light rail trains from […]
http://trustedadvisor.com/public/trusted_advisor1.png
0
0
Charles H. Green
http://trustedadvisor.com/public/trusted_advisor1.png
Charles H. Green
2006-12-08 20:00:00
2006-12-08 20:00:00
Trust, Betrayal and the 9/11 Jumpers
Bear with me: this one's going to get all abstract on you before it comes back to earth. Tiha von Ghyczy is a fellow of the Boston Consulting Group's Strategy Institute, and teaches at Darden Business School. In the current issue of BCG's long-standing Perspectives series, he writes about the concept of space in strategy: […]
http://trustedadvisor.com/public/trusted_advisor1.png
0
0
Charles H. Green
http://trustedadvisor.com/public/trusted_advisor1.png
Charles H. Green
2006-12-06 20:00:00
2006-12-06 20:00:00
Is Strategy a Mind Game?
Put six toothpicks on the table in front of a friend. Lay three of them in the shape of an equilateral triangle. Ask your friend to arrange all six toothpicks so that in total, they create four equilateral triangles. When they finally give up, reveal the secret:—create a four-sided pyramid. The "trick" is to think […]
http://trustedadvisor.com/public/trusted_advisor1.png
0
0
Charles H. Green
http://trustedadvisor.com/public/trusted_advisor1.png
Charles H. Green
2006-12-05 20:00:00
2006-12-05 20:00:00
Trust Tip 41: Multiply Transactions by Ten
THE TRUSTED ADVISOR FIELDBOOK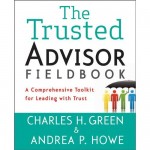 The pragmatic, field-oriented follow-on to the classic The Trusted Advisor. Green and Howe go deep into the how-to's of trusted business relationships—loaded with stories, exercises, tips and tricks, and deeply practical advice.
FIND OUT MORE
TRUST-BASED SELLING

"Sales" and "Trust" rarely inhabit the same sentence. Customers fear being "sold" — they suspect sellers have only their own interests at heart. Is this a built-in conflict? Or can sellers serve buyers' interests and their own as well? The solution is simple to state, hard to live—and totally worth the effort.
THE TRUSTED ADVISOR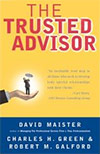 This classic book explores the paradigm of trust through the filter of professional services. It is a blend of thought and practice, clear ideas and practical suggestions, and it has found a place on many professionals' working bookshelves.