Some of you are partaking in the annual ritual of watching Christmas movies – most notably the perennial It's a Wonderful Life. This is not about that movie. Instead, I want to remind you of an interesting lesson from the seasonal also-ran, Miracle on 34th Street. Nominally a cute tale about the existence of Santa Claus […]
http://trustedadvisor.com/public/trusted_advisor1.png
0
0
Charles H. Green
http://trustedadvisor.com/public/trusted_advisor1.png
Charles H. Green
2017-12-24 10:55:46
2017-12-24 10:55:46
Santa Does Trust-based Selling
Today's post is by Trusted Advisor Associates' own Andrea Howe and Stewart Hirsch. —————————— We just led a webinar on how to take a trust-based approach to building C-suite relationships. (We decided in the moment that we should call it the Hirsch and Howe Show.) There was a great question asked that we didn't have […]
http://trustedadvisor.com/public/trusted_advisor1.png
0
0
Charles H. Green
http://trustedadvisor.com/public/trusted_advisor1.png
Charles H. Green
2017-12-21 06:01:14
2017-12-20 17:42:14
Is it Ever Trustworthy to Go Around Someone to Get to the C-Suite?
It's popular to claim that "trust is down." Mostly, that's true. It's definitely true that trust in government in the US has declined. It's a bit less true of big business, but not enough to be proud of. Edelman basically has it right: trust is broadly on the decline. This is mainly a business blog, so let's […]
http://trustedadvisor.com/public/iStock-514657035.jpg
482
725
Charles H. Green
http://trustedadvisor.com/public/trusted_advisor1.png
Charles H. Green
2017-12-18 06:00:43
2017-12-17 12:57:33
Do You Trust Your Customers? Do They Trust You?
THE TRUSTED ADVISOR FIELDBOOK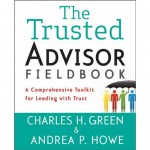 The pragmatic, field-oriented follow-on to the classic The Trusted Advisor. Green and Howe go deep into the how-to's of trusted business relationships—loaded with stories, exercises, tips and tricks, and deeply practical advice.
FIND OUT MORE
TRUST-BASED SELLING

"Sales" and "Trust" rarely inhabit the same sentence. Customers fear being "sold" — they suspect sellers have only their own interests at heart. Is this a built-in conflict? Or can sellers serve buyers' interests and their own as well? The solution is simple to state, hard to live—and totally worth the effort.
THE TRUSTED ADVISOR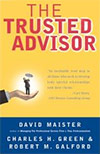 This classic book explores the paradigm of trust through the filter of professional services. It is a blend of thought and practice, clear ideas and practical suggestions, and it has found a place on many professionals' working bookshelves.